NSW Project EnRole September Update
This last quarter has been a busy time for Project EnRoLE in NSW. We have had four major events running. Activities have been humming along at the University of Wollongong (UOW), Sydney (USyYd), Macquarie and New South Wales (UNSW). Along side cluster activities we have been involved in joint activities to develop our team skills in designing, running and participation in Role-Based Learning.
In August the group launched the inaugural NSW Network activity began with an EduBlog Game, hosted by the NSW EnRoLE Network using Albert Ip's, Blog Space. The game was played in 4 rounds. Participants began by responding to three incomplete sentences. Responses were used to determine three teams. A half-life activity was re-purposed for round two and three. In which participants progressively reduce the number of words to 50 then fewer than 26. The feedback was positive; the results indicated that the activity successfully promoted discussion, reflection and challenge.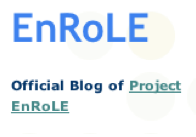 The University of Wollongong, utilizing software developed for the Middle Eastern Politics Sim by John Shepard at UNSW, coordinated the second activity. The online role-play involved the re-purposing of UOW, "Idon'tgo to University", initially developed by Maureen Bell. It was set within an Educational Conference, which enabled participants to experience online role play simulation from a player's perspective through active participation. The participants adopted an anonymous characters persona and responding to a statement made during a conference lunchtime discussion. There were initially 35 participants and 8 roles. It was decided to create five separate groups. The participants came from Sydney, Macquarie, Wollongong universities, UNSW, and Bethlehem Tertiary Institute.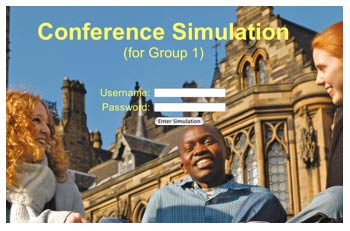 Participants were encouraged to make a minimum of three comments and were provided with further stimulus as the role-play progressed. Unfortunately a number of participants withdrew from the activity, which had a major affect on the number and quality of discussion within the groups. It also led to frustration within the groups by those members who were trying to stimulate discussion but were getting no response. The withdrawals happened after the activity had commenced so we were unable to add new members as everyone was already assigned and "in role."
As can be seen from the table below, the level of participation had a significant effect on the number of entries. In fact the entries in-group five, which had 100% participation, became very enthusiastic and quite detailed.
Number of Messages
/ comments
No particpated
/ No members
Most entries by
one member
Group 1

17

4 / 8

5

Group 2

17

5 / 8

5

Group 3

14

3 / 7

4

Group 4

19

5 / 7

7

Group 5

22

5 / 5

7
The third activity was an optional roundtable meeting to debrief and discuss practical strategies for dealing with issues arising from the online activities. Participating groups were linked via Video Conference between USyd and UOW. Several pertinent issues were raised. With regard to the blog activity it was felt that:
There should be an RSS feed as participants weren't sure how often and when they were required to access the site


It was easy to use


More instructions were required especially about the overall outcome


The challenge of the activity was valued


With regard to the role play it was felt:
There needed to be a threaded discussion


It was disappointing that there wasn't full participation (and hence discussions died)


There should be a RSS feed so participants knew when there was a new entry


The size of the groups needed to be eight to ten


Being anonymous was good
Further suggestions of a general nature were that there could be a role play on running role plays. It was also suggested that we look into using Edna groups and Moodle for future development.
The fourth activity was an online videoconference between USyd and UOW with Elyssebeth Leigh as she presented her XB - A business simulation with a difference. This session introduced ways to expand the range of teaching strategies used. Elyssebeth took those present on a student centred (personal) journey examining ways to develop a better understanding of how to use an array of structured learning experiences for extending and developing curriculum and/or revising subjects. This session addressed concerns and provided practical means of developing strategies for supporting learning - especially through use of creative applications of online role-based activities.